Aly El Tahry Catalyst Partners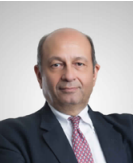 A Brief History In 1898, a group of men met at the Intercontinental Savoy Hotel in Cairo and created the initial structure of the Egyptian Stock Exchange, very similarly to what transpired in 1792 at 68 Wall St. in New York, when the infamous Buttonwood Agreement was signed, establishing the seeds for today's NYSE.
In 1903, these pioneering Egyptian brokers moved to transact at the infamous Groppi Café in Downtown Cairo, under a regulatory structure overseen by the Al Ahli Bank, which acted as the Central Bank of Egypt for decades. By 1907 there were 228 joint stock companies who's shares were being traded.
In 1928, a purpose built Exchange Building was erected on Sherifein Street in Downtown Cairo, and in 1933 the Cairo Exchange established the first governance and operating rules by which trading activity was bounded.
By 1953, there were 360 registered brokers working for 21 brokerage houses, all structured as partnerships; by then, the Cairo and Alexandria Exchanges combined, were the 5th most active, globally.
Egypt nationalized all companies of any size in 1960- 61, causing the Exchange to lose its raison d'etre and consequently it went into a state of hibernation until 1992-3, when Egypt established Law 95 and its Executive Regulations, respectively, resurrecting the legal framework for share trading once again.
We now have a quarter century's worth of a track record, having witnessed Egypt's market follow the natural evolutionary path of all exchanges, such as the establishment of a Central Share Depository and the dematerialization of shares.
The privatization IPO's of 1995-1997, kicked started the revitalization process, as well as providing initial market liquidity, and then followed by private joint stock companies resorting to the capital market for their respective growth and sustainability, and this process continues to this day. Of those private sector companies floated back then, many are no longer simply local companies, but now have operations both regionally and internally.
Egypt, as we all know, has an amazing heritage; one replete with distinction in terms of achievements as well as opportunities for investment; it is a country blessed with a wealth of potential, whether in terms of its very clever human capital or the myriad of comparative advantages it inherently possesses, such as its weather, antiquities, agriculture, coasts and more recently, industry
Its cultural heritage is self evident, and now being more recognized in modern times and North America, as evidenced by the Provincial Parliament of Ontario for Mississauga's recently 'proposal' of a bill to the legislature to
recognize the month of July as Egyptian Heritage Month.
I was very pleasantly surprised, when I learned by coincidence last year, that the liberal arts U.S university I graduated from in 1976, Washington & Lee, now offers a course studying Egyptian films! Let us not forget, Washington D.C. is full of Ancient Egyptian symbolism, a clear reflection of the Founder's appreciation of Egyptian culture and heritage, including the world's largest 'Obelisk'!
Today, the non-commercial banking industry, all that is capital market related, by any standards, especially in terms of the Emerging Markets world, is well structured and regulated, such that it functions, for all intents and purposes, as any sophisticated investor would and should expect.
Since 1990, I have participated in the resurrected Egyptian Capital Market's evolution and have observed that it has both fulfilled its purpose in terms of providing worthy companies with growth capital, but also offered investors over the past 25 years, very handsome returns.
Now in my fourth initiative, as the Managing Partner of Catalyst Partners, a firm who's vision is to be the 'one stop shop' for medium sized Egyptian companies' needs, dedicated to helping them grow and thrive, by providing an integrated applied methodology of corporate finance skills along with management consultancy skills, designed and implemented with the management of our 'incubated partners', such that the subject firm is institutionalized and consequently ready to be offered to the public market; along this 2-3 year journey, there is normally a need to design and structure financial investment products, which are worthy and, the track record shows, lucrative investments. The reforms initiated by Egypt's government since 2016, which are continuing in earnest, will provide the healthy environment for corporate plans, being translated to reality.
All Egyptians, and the world for that matter, are therefore invited to participate, whether in "A New Legacy-Contemporary of Egypt" on papyrus paper, or well structured and governed investment opportunities.
Aly El Tahry
Catalyst Partners