Mina Megalla | ARCHAEOLOGIST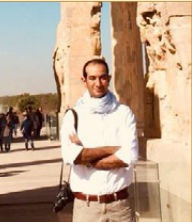 My name is Mina Megalla, I am an Egyptian archaeologist and a Researcher. For the last 15 years, I have been working in international projects and excavations all around the Middle East, the Balkans, the Caucasus, the Persian Gulf and North America.
I have worked for many prestigious institutions such as the Oxford University, the German Archaeological Institute, the University of Copenhagen among other great Educational establishments.
Undoubtedly the most precious possession Egypt has inherited for thousands of years is not the gold of the Pharaohs nor the architectural wonders and massive structures but the everlasting knowledge and art that kept hidden and preserved for generations to come.
The great American Egyptologist, James Henry Breasted, has emphasized through his many publications the importance of documentation of ancient Egyptian heritage and its influence on the modern world.
This knowledge wouldn't be accessible today if it wasn't for the genuine invention of papyrus as it enabled such process of documentation of art and writing in the most convenient way.
Not only papyrus helped to survive the heritage of Egypt but it was Egypt's gift to the world as all the neighbor nations borrowed the new pioneering way to preserve their own heritage of art and writing systems as well as in their many correspondences.
Today we realize how connected the ancient world was through the thousands of these correspondences that were written and painted on papyrus. Yet, papyrus remained as in the ancient world an Egyptian original, representing the art of Egypt and its people. Today there is no better way to connect ancient Egyptian art to modern art than having it painted on papyrus, one of many gifts of Egypt to the world.
MINA MEGALLA | ARCHAEOLOGIST